Kick back and let the liftgate do the work
If you are one of those Minnesotans who consistently leaves Target with way more than you initially went in to get, then listen up! The 2019 Nissan Rogue might just be for you. This car has the ability to put on motion activated liftgate for those times you come out of the store with more than you intended. Instead of juggling all those bags and digging in your purse or pockets for the keys to unlock the car, now all you have to do is simply kick your foot under the rear bumper and watch as the trunk automatically opens. Gone are the days of balancing items in one hand to use the other to open the trunk, this feature makes the overbuying a little easier and a little less stressful.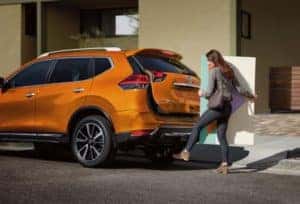 The Rogue also comes with Nissan Divide-n-hide cargo system, which lets you make shelves or a box to store a variety of items, like groceries, no more stressing about the bags falling over or spilling, now you can arrange the Divide-n-hide to make a compartment making that problem simply disappear and making you ready to go anywhere.
Call or stop in Walser Nissan in Burnsville, Minnesota to give it a try!